One of the best ways to examine digital evidence and increase efficiency during the discovery phase of a lawsuit is to utilize the power of artificial intelligence. Reveal eDiscovery software allows attorneys to preserve digital evidence easily and access it on an intuitive platform.
Legal teams can filter, organize, and search digital evidence with robust AI technology tailored to cases with significant digital assets. Processing early case assessment allows attorneys to assess risk quickly and help develop legal strategies while reducing costs.
Strengths of Reveal eDiscovery Software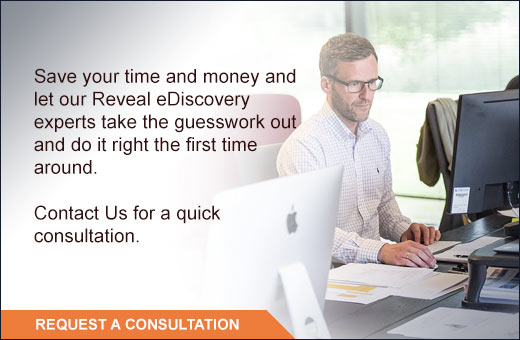 With clients in countries across five continents, Reveal eDiscovery software empowers legal teams to successfully evaluate cases from day one. As digital evidence has become increasingly common in today's tech-focused world, it has become imperative to adopt tech-focused solutions.
By seamlessly organizing and empowering rich search filters, Reveal eDiscovery has transformed how legal teams manage files. Not only does this technology save users time and money, but it can also help create thorough insights.
Reveal eDiscovery software recognizes images and 160 languages to provide comprehensive data analysis with convenient data storage options in the cloud.
One of the primary benefits of utilizing this AI technology in the early discovery phase is that it allows legal teams to focus on their strategy while managing and organizing digital evidence at reduced costs.
Finding Relevant Content
Artificial intelligence, visual analytics, and communication analysis blend seamlessly in Reveal eDiscovery to create a user experience that is intuitive and more accurate than traditional early discovery methods.
The premise an intuitive user can customize, organize, and pinpoint the most relevant content drives our AI solutions.
Reveal eDiscovery can evaluate digital evidence that contains multiple languages and create relevant clusters that help develop a legal narrative. This powerful AI technology distinguishes subtle context and helps prioritize a document's relevancy.
How Reveal eDiscovery Can Help Your Case
By providing extensive analysis of the intricacies of a case from day one, law firms and legal teams can offer agile, dynamic solutions that reduce costs and allow teams to focus on trial strategies instead of data management.
Attorneys experienced with Reveal eDiscovery can prepare detailed reports to present facts to the opposing team by preparing deep insights based on digital evidence. This saves time and reduces costs while offering reliable facts during the early discovery phase.
Reveal eDiscovery also increases the speed of digital evidence analysis by utilizing active learning algorithms that can review and sort digital evidence based on relevancy and customized prioritization.
Firms can create unique filters and access levels to provide the highest level of legal analysis without redundant document review during early discovery.
Best Guidelines for Use of Reveal eDiscovery
Reveal eDiscovery is a powerful tool tailored to analyzing large amounts of digital evidence across platforms and creating a digital snapshot of the most relevant information. But you don't have to be an expert in it to leverage its power for your legal cases.
In many cases, utilizing a third-party firm for managing digital evidence allows attorneys to focus on developing legal strategies without wasting time or money on data management. This also connects legal teams in real-time to allow for easy collaboration during early discovery creating a dynamic workflow that is not bogged down with data analysis.
By working with a third-party digital asset management team, legal firms can focus on developing legal strategies.
At Datamine Discovery, we are experts in Reveal eDiscovery. Our team will conduct a comprehensive consultation to help you understand the value of AI-driven early discovery analysis. Reach out today to find out how we can help create customized solutions that evolve with today's digital landscape.
---
Document Review Platform is a Very Powerful Tool, If You Know How to Use It…
Attorneys who are not experienced in using document review platforms should consider partnering with an eDiscovery consultant to maximize the benefits of this technology. eDiscovery consultants bring a wealth of expertise in navigating the intricacies of document review platforms and can provide tailored guidance on selecting the right software, setting up efficient workflows, and assisting with compliance issues with legal standards. They can also assist in data collection and preservation, helping attorneys avoid costly mistakes that could jeopardize the integrity of the case. With an eDiscovery consultant by their side, legal professionals can accelerate their learning curve, avoid common pitfalls, and harness the full potential of document review platforms, ultimately delivering more effective and cost-efficient legal services for their clients.
We Offer Reveal eDiscovery Services and Support
Contact our Reveal eDiscovery experts at 617-329- 9530 to discuss your case or schedule a consultation.  With a quick call our team can help you save time and money when dealing with different eDiscovery matters.  Be sure to check out our entire suite of eDiscovery services we offer.