When it comes to the complex collection and preservation of data, Microsoft 365 eDiscovery makes the process simpler for attorneys working with large corporations. Building the strongest case possible requires the right tools, and innovative software features go a long way.
Read on to learn how this software aids a company's legal team with a variety of helpful features, as discussed by Datamine Discovery's outside electronic discovery consultants.
Microsoft 365 eDiscovery Simplifies Corporations Information Storage and Searches
The latest eDiscovery software is ideal for large corporations sifting through endless electronic content. The software's impressively wide search capabilities can quickly uncover and process vital compliance information, making it the new eDiscovery standard. The platform consists of the following three eDiscovery solutions:
Content Search
The Content Search tool within this discovery software allows searches for relevant content across all Microsoft's apps. Both simple and advanced search queries provide access to all the content you need to represent a client, build a case, or refine a legal strategy. This feature also streamlines your ability to export content for easier access and sharing.
Under this feature, you can also find various statistics related to your search, including top locations and the number of matching items. Only certain Microsoft 365 subscriptions grant users access to this solution, including the Education A1 subscription and all iterations of Microsoft Business (Basic, Standard, and Premium).
eDiscovery Process (Standard Subscription)
The Standard subscription to eDiscovery from Microsoft 365 grants users the same access as the Content Search tool. However, this tier expands on that concept with the ability to create eDiscovery cases and assign case managers to them. It also permits putting a legal hold on certain content pertaining to an ongoing case.
These helpful features not only focus on finding relevant information but emphasizes easier project management as well. By subscribing to Microsoft Business Premium, Exchange, or SharePoint Online plans, among others, you can utilize this resourceful eDiscovery tool with all the benefits.
eDiscovery Process (Premium Subscription)
What do premium subscribers gain? Firstly, they can access the highest-tier eDiscovery project management tools Microsoft has to offer. The Premium version of eDiscovery from Microsoft 365 gives legal professionals full access to a host of data collection and preservation capabilities. It is an incredibly impactful software that provides an entire workflow aimed at discovering, preserving, analyzing, and exporting legal data.
Like the Standard software, Premium subscribers can delegate case managers. This is important because it takes eDiscovery project management a step further, affording the ability to manage legal custodians and monitor workflows.
Sifting through electronic data is easy thanks to Microsoft 365 eDiscovery Premium's feature that eliminates duplicate information. You can also copy data into review sets featuring search, filter, and tag functions to better identify and sort relevant content. It also permits email threading and effective predictive coding to enhance content analytics.
Large Discovery Platform for Large Companies
A team like Datamine Discovery frequently witnesses how the expansive capabilities of Microsoft's eDiscovery software can benefit large companies with daunting amounts of electronic data. A major conglomerate can easily produce thousands of email exchanges daily, not to mention documents or content on SharePoint sites. Mining this data presents significant challenges if you don't have a robust eDiscovery platform to handle the task.
Using Microsoft 365 for eDiscovery, even with a basic subscription, will simplify data collection and processing considerably. The advanced tools within the Premium subscription also supplement the efforts of busy legal teams representing the company's legal interests.
Is your corporation on the fence about using Microsoft 365's tool for eDiscovery? Calculate the estimated return on investment to determine its impact on the company. Tracking the following metrics can help you evaluate the economic benefits of a Premium subscription plan:
Cost of external eDiscovery platforms per case
The average volume of reviews
Number of processing exceptions per case
Average cost per custodian
Considering both the cost benefits and data collection and analysis features, eDiscovery from Microsoft 365 provides a legal tool that's too good to dismiss.
Third-Party Law Firms Benefit When Companies Have a Strong Platform Like Microsoft 365 eDiscovery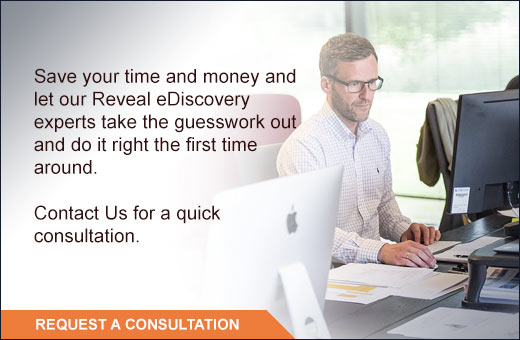 When a law firm represents a huge corporation, using tools like eDiscovery from Microsoft 365 greatly enhances workflow capabilities. Clients with access to the platform can begin their data collection by searching through countless emails and office documents with ease. This task alone simplifies the process and grants any attorney access to an invaluable eDiscovery resource.
Third-party firms receiving information via Microsoft 365 eDiscovery also benefit. For instance, the platform eliminates the need to fund a separate and costly electronic discovery service. It also provides you with the opportunity to collect preliminary data.
A law firm may opt to dive into the discovery process in-house or choose an outside consulting service. So, outsourcing material from eDiscovery by Microsoft 365 is a smart way to make the most out of the platform. Consulting a firm like Datamine Discovery also gives the team access to professionals who can make sense of the data they find for better search relevance and efficiency.
Microsoft 365's eDiscovery Can't Do It All, But We Can Help
There's no question that eDiscovery from Microsoft 365 provides an extremely resourceful tool for finding, organizing, and managing legal data. However, its flaws will still limit your total eDiscovery efforts without someone to fill in the gaps. That's where Datamine Discovery comes in.
For instance, the platform's capabilities only work on content within Microsoft applications. That makes access more challenging for companies that use an array of outside applications for their communication and document-sharing needs. Microsoft's platform also lacks customizable review features, such as adding whole-page redactions to documents.
Other challenges with the eDiscovery software from Microsoft 365 include limiting the searches you can run at a time and lagging search speeds. Does your legal team need extra help covering all the bases in time? Thankfully, you can count on a team like Datamine Discovery to complete the job that Microsoft can't manage on its own.
For example, Datamine Discovery will offer a variety of eDiscovery and project management services and skills in multiple electronic discovery platforms. We might also utilize a central platform like Reveal to analyze relevant content and present impactful evidence for any legal case. However, don't interpret this to mean that Microsoft's offering isn't an effective resource; it just benefits from partners like Datamine Discovery to promote synergy for better outcomes.
Otherwise, Microsoft 365 eDiscovery provides a great first step for major corporations building a legal case. With outside support from Datamine Discovery, it's even more valuable for eDiscovery.
Datamine Discovery Helps Law Firms Sift Through Data and Make Sense of It All
State-of-the-art eDiscovery platforms can still make it overwhelming to collect sound evidence on the go. That's why the legal support professionals at Datamine Discovery assist lawyers with the comprehensive collection, review, and analysis of any stored information for compelling cases.
Don't stumble along in the electronic discovery process; a consulting firm like Datamine Discovery frees up attorneys' time for essential tasks. Let us scour the relevant data to make sense of the big picture while you build your case.
Datamine Discovery can take your case to the next level with efficient data collection tools using our advanced EDiscovery Services —call (617) 329-9530 to learn more.