Reveal-Brainspace has a pretty great product in Reveal Review version 10. Currently still in use, Review 10 offers everything you need for a successful eDiscovery project: the ability to cull data, a safe repository in which to review, and AI models to help hasten the process.
Well, Reveal-Brainspace decided that "pretty great" wasn't good enough and dropped Reveal Review 11, a dazzling array of visual analytics that updates just about every feature in the platform.

The Reveal 11 dashboard drops you right into the case's visual analytics, so you can see a timeline of documents, how many are originals versus duplicates or near duplicates, and any custodian information that was provided. If any AI models are running, that information is available right on the front dashboard as well, so — for instance — you can grab documents that are 75% or more likely to be responsive, are originals, and are from a certain time period — all in three clicks. The idea is to get to your necessary information as quickly as possible, in as few clicks as possible.
Maybe you don't like visual analytics, or you yearn for Reveal Review 10. Fear not: with a click of the "Grid" button, you're back in familiar territory.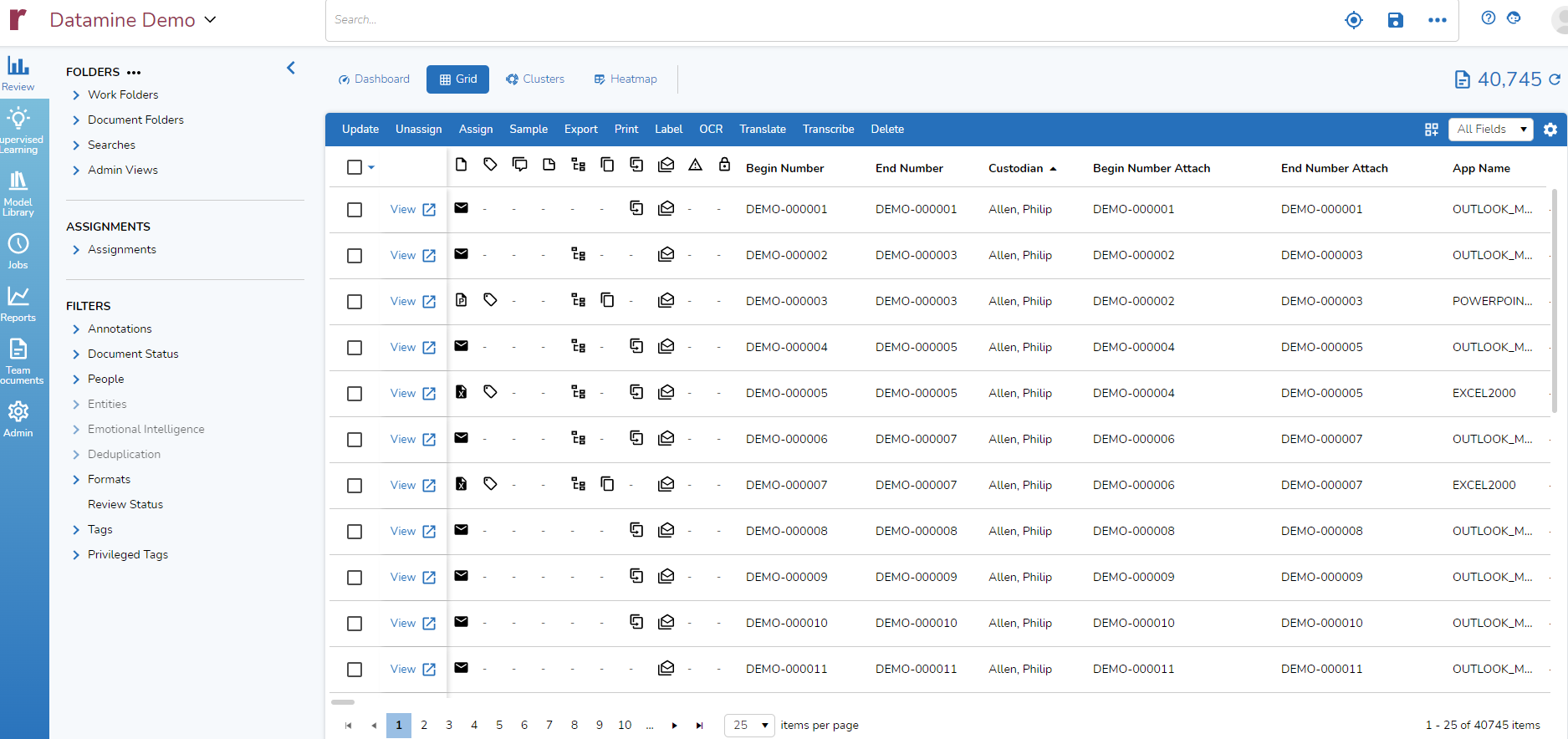 With metadata columns able to be rearranged on the fly, the grid is more customizable than ever before. There's also a cluster wheel for in-depth searching and a heatmap arranged by custodian so that you can approach your data set from different angles: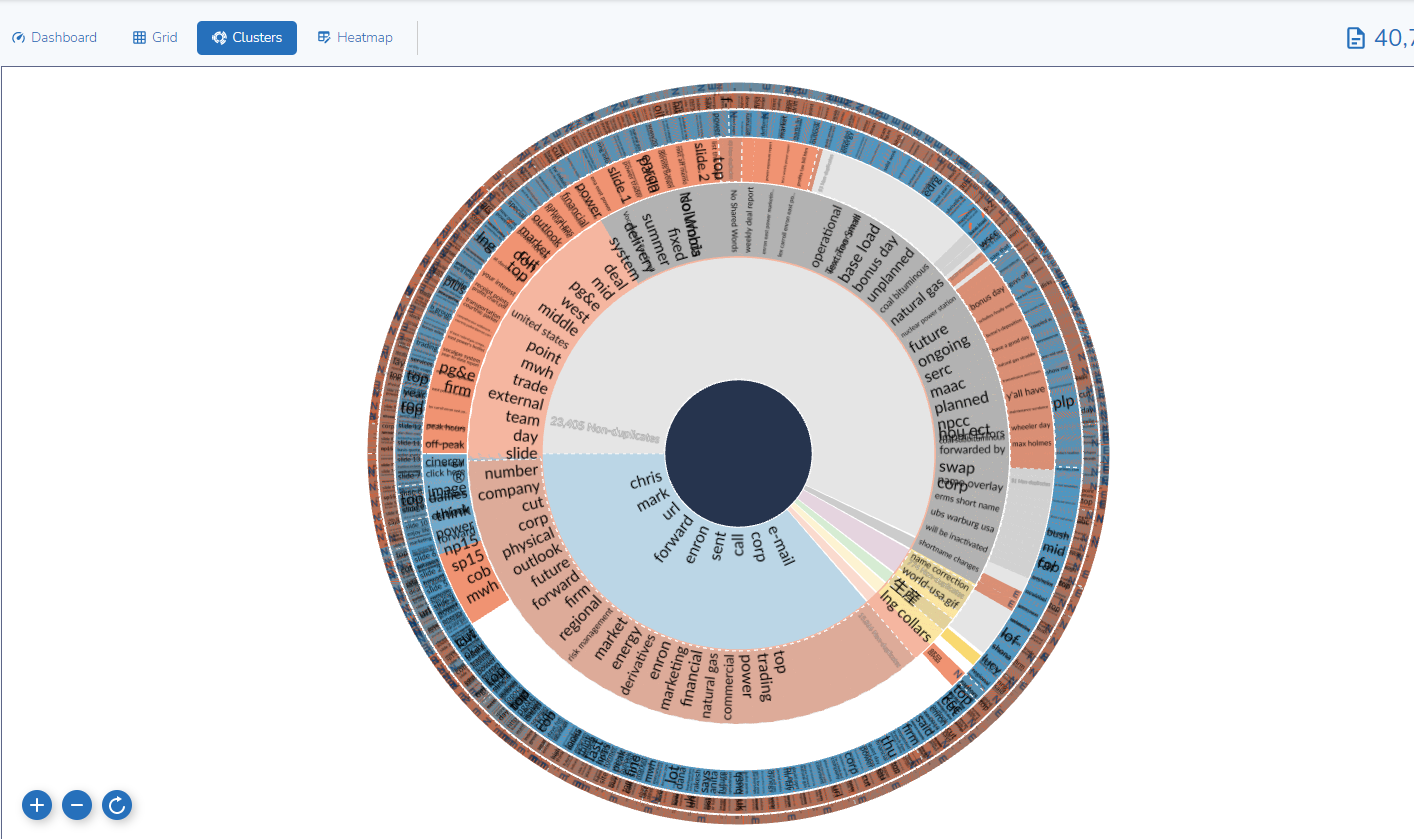 See how many of each document type each custodian has and focus on the important information: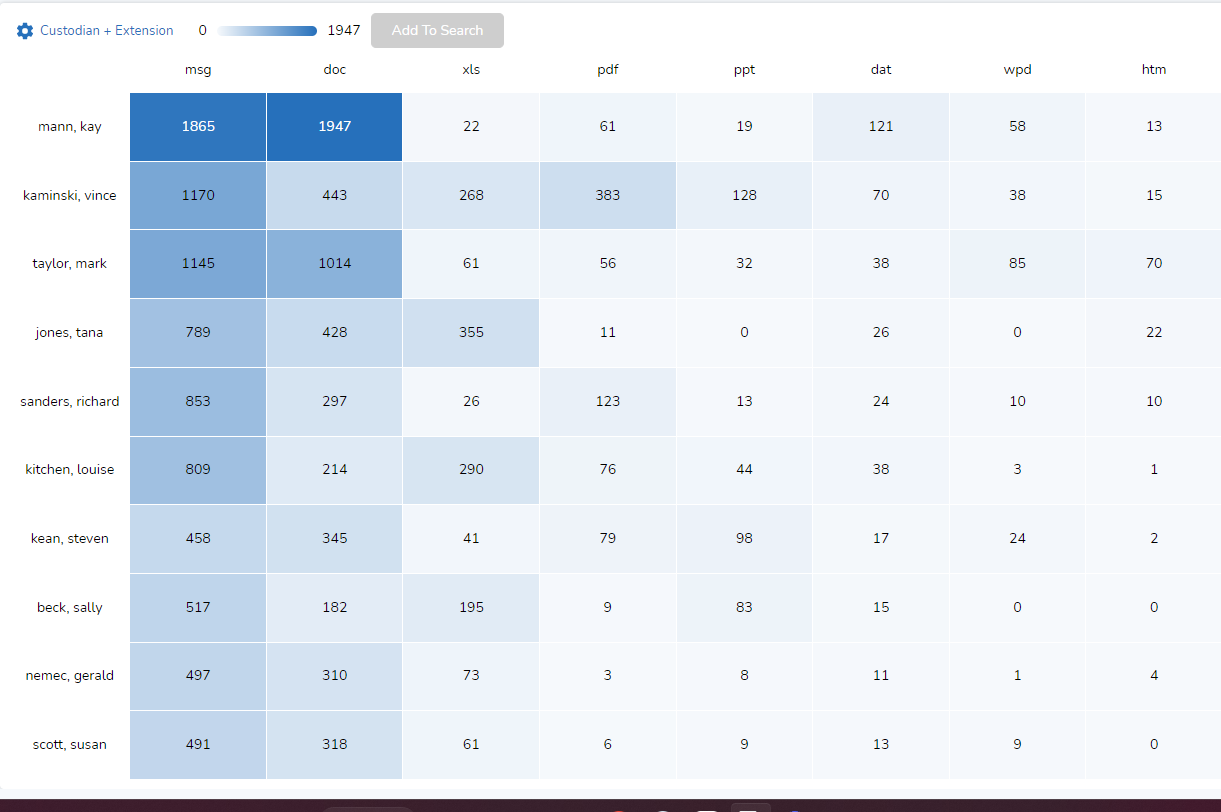 Searches are now more dynamic than ever; along with keyword searches, one can conduct a "concept search":

The Concept Search brings up several related items that you can weigh by matter of importance. Then, one can use the visual Brain Explorer to see how these items relate to one another:

These bubbles represent rabbit holes that you might not even have known existed before running the Concept Search. It's possible to approach your data set in a whole new way.
Furthermore, searches can be pre-run so that terminology changes can be made:

Reveal-Brainspace knows what an eDiscovery project needs in order to succeed and has provided a program that can sense where the important information is. Get to the heart of your case faster and more reliably with Reveal 11. Book a demo with Datamine Discovery today and see what the newest functionalities can do for your case.
At Datamine Discovery, our specialty in just about everything EDiscovery helps you better prepare for any legal case or internal review.   Learn more about how we can help you with and your assessment process by calling us at 617-329-9530.