When it comes to eDiscovery, if Craig Ball speaks, you listen.
Ball is an industry expert who reaches his base in the form of blog posts on his website, Ball In Your Court. His most recent post, The Annotated ESI Protocol, discusses best practices and offers commentary. His "goal is to offer lawyers who are neither tech-savvy nor e-discovery aficionados a practical, contextual breakdown of a basic ESI protocol–more than simply a form to deploy blindly or an abstract discussion."
What is an ESI Protocol?
According to JD Supra, an ESI Protocol "is a negotiated document that expressly states how the parties to a litigation should produce electronically stored information (ESI). The ESI protocol assures against surprises and commands that ESI is preserved, collected, processed, and produced in an agreed upon, readily usable format." These are usually negotiated at Rule 26(f) conferences, which is when the parties to a case come together to discuss the process and timeline of Discovery.
Ball's 32-page annotated guide has two columns: one with Exemplar Protocol Language, and the second with commentary and explanation. As eDiscovery Today put it, "So, the explanation for each section is provided as you go, which makes it easy to develop that understanding quickly!"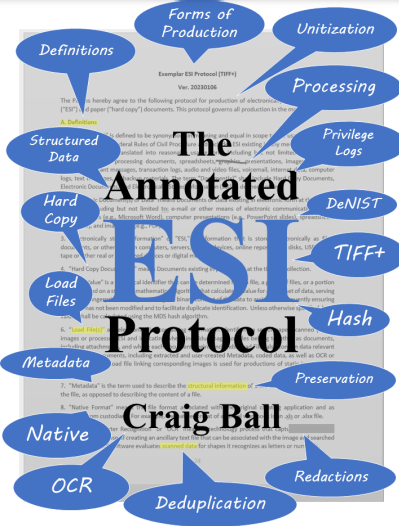 eDiscovery Today also asked Ball,
Are ESI Protocols Compulsory?
Effectively, yes; explicitly, no. The Rules do not expressly require that the range of ESI-related topics on which counsel must engage be memorialized in an ESI Protocol; but where consensus exists, agreements should be memorialized as part of a discovery plan. So, effectively the Rules require an ESI Protocol to emerge, whether we call it that or not."
Having a proper ESI Protocol keeps everyone in line and ensures that Discovery goes off without a hitch. It also gives you something to check against later, should any problems arise. With The Annotated ESI Protocol, you can keep up with other counsel and know what you're talking about. These issues are going to come up during Discovery no matter what; you should be prepared to sit at the table and contributing knowledgeable information.
You can read The Annotated ESI Protocol here. Interested in learning more about how we at Datamine Discovery handle ESI Protocols? Start a conversation with us today.
Need Help with eDiscovery and ESI Related Issues?
Datamine Discovery is here to help attorneys who simply don't have the time to master eDiscovery related matters.  Contact our eDiscovery experts at 617-329- 9530 to discuss your case or schedule a consultation.